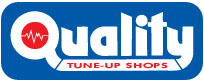 © 2011 Quality Tune Up Shops 

Auto Care Center Since 1976

CAR TIPS

Car Tips for a Safer Running Car

It doesn't matter what you drive: a car, a light duty truck, SUV or mini-van—the bottom line is you want to get to where you're going and back, in safety, comfort—and with no hassles.

The best way to do that is to get to know your vehicle, so you can prevent unnecessary breakdowns or mishaps. This kind of basic car maintenance know-how just makes good sense—and really, it's all pretty easy.

So we've put together a list of basic tips that will keep your vehicle running at its best, the way you want it to.

Have brakes and the brake 


 system inspected at least 

 once each year.
Examine all belts for fraying and tension with every other oil change (about every 6,000 miles).

Check hoses for deterioration, corrosion, cracking, bulging, breakage and other signs of extreme wear, also during every other oil change service.

Rotate tires about every 7,500 miles to maximize tire life, and assure steady, even wear of all tires.

Check all safety belts for wear, proper clasping and secure anchoring.

Replace windshield wipers when worn, streaking, or not providing you with clear visibility during inclement weather.

Check all lights to make certain bulbs have not burned out. Include checks of headlights and hi-beams, tail lights, turn signal indicators, brake lights/hi-mount stop lights (if equipped), back up lights, parking lights, and other exterior lights.